"A GENTLE NATUROPATHIC AND HOMEOPATHIC APPROACH CAN AID IN MEETING THE CHALLENGES FACED BY PARENTS IN RAISING THEIR CHILDREN IN AN INCREASINGLY TOXIN, SUGAR BASED WORLD."
– Dr Miranda Myles
As a mum, Miranda is passionate about resolving health issues naturally for babies and kids. Due to their strong vitality, babies and children respond beautifully to gentle remedies and slight changes in nutrition Miranda utilises natural, safe and gentle techniques including nutritional, herbal and homeopathic remedies and shonishin, needle-free acupuncture, to ensure optimal health for your children. 
Throughout the years, Miranda has developed a comprehensive knowledge and
resource base that can help you choose the right path to take concerning
your child's health issue, such as:

 what is Shonishin? 
Paediatric Acupuncture
Shōnishin is a unique, gentle form of needle-free "acupuncture" developed in Japan specifically for the needs of babies and children. Rather than using needles (as none of us like the idea of sticking pins in little 'uns), in Shōnishin a special tool is used for rhythmical stroking, rubbing, tapping, vibration and light pressure to the skin, acupuncture points and meridians (Wernicke T, 2014). The treatments are quick (generally no longer than 10-15 minutes) and are designed to be comfortable and pleasurable. Children love the gentle touch that the technique offers. It is designed to be beautifully calming, to harmonize the child's vital energy, and strengthen the child's constitution.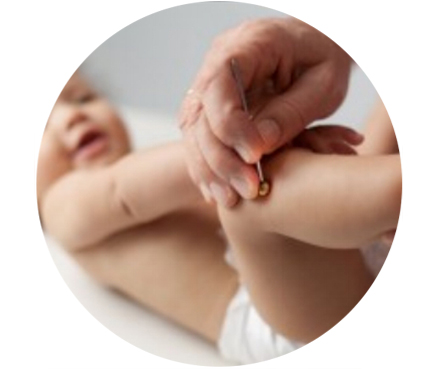 Through her own experiences, Miranda has practiced, refined and proven her successful approaches to maintaining naturally healthy babies and kids, and the impact this has as they develop through childhood and adolescence.
To find out more about Dr Miranda Myles and the service she offers for treating children, 

contact us

 for a consultation, or visit our office at 169 Grattan Street, carlton victoria.